Gear Test Rig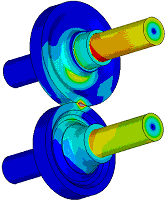 Gear sets and gearboxes are developed by
VOLVO Construction Equipment
. Any modeled or theoretical improvements of the gear sets and gearboxes must be verified by thorough mechanical testing in a controlled and known environment.
ALFGAM Optimering has participated in the design and evaluation of a gear test rig by performing stress and eigen frequencies analysis on both separate gear boxes and the complete test rig (independently and together).
Conclusion:
The eigen frequency analysis provided valuable information on potential interference between the test rig and the measured entity.