Optimisation of Front Axle Housing
A front axle housing for a
VOLVO
wheel loader was optimised. The objectives were lower weight and higher reliability. Available design space for this optimisation was mainly the interior shape of the housing and the design of some external details. A Total of 32 independent design parameters were used to control the variable part of the design.
The reliability of the axle housing is highly dependent on the load spectrum in service. To ensure the requisite of the axle housing, stress level limits for equivalent fatigue loads were established. Additional constraints were set to ensure the casting suitability of the design.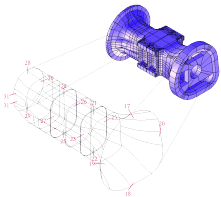 The optimisation resulted in a design with the requested reliability and minimised weight.
Conclusion:
By using structural optimisation it was possible to achieve an acceptable design in short period of time without resorting to tedious "trial and error" associated to such design work.